Ilene S.

Palo Alto, CA

9/15/2012

A Perfect Finish!  That is exactly what you will get--- Perfection!  What a find this place is.  I would highly recommend them for cabinetwork, refinishing outside doors and even tables.  They do it all and do it all so well!  Manager was truly a pleasure to deal with and he takes extreme pride in providing you exceptional customer service and products. Trust me, I wouldn't even think of going anywhere else.

I. Sotnick, Palo Alto

Raymond J.

San Jose, CA

10/23/2011

Wow! I can't believe how incredible our built-in hutch looks after Finisher's masterful repair!!!

We had All perfect finish repair out beautiful mahogany built-in buffet from our 1928 home. There was damage to the built-in from another worker who had worked on it and created a bit of a disaster.Although I was upset about the damage I have to admit that after they worked on it, it looks better than it ever did.

It was a joy to watch his work because you can tell he is an absolute master at what he does. He had a level of perfection that you almost never find. He paid attention to all details including the weather and how it would affect the final finish.

He also gave me tips and pointers on how to repair the rest of the woodwork in the house including what products to use and the best techniques.

The final bill came in exactly at the lower of the two estimates he had given.

Highly recommended. I will definitely call him again whenever I need find woodwork refinish.

Kay P.

Menlo Park, CA

10/19/2010

The team at All Perfect Finish are the ABSOLUTE BEST.  My contractor recommended them so I knew we were in good hands, but I had no idea how talented and professional they would be.  The finisher is an artistic craftsman and has an eye for detail and color.  His shop is clean, he takes pride in his work, cares about the outcome of his product and is a pleasure to work with.

I had no idea what I wanted, I am a perfectionist and was nervous about choosing the right thing.  He was kind, patient, clearly interested in what I chose, answered all questions and truly wanted me to be happy with the result.  He was generous with his time and more than fair in his pricing.  I went with a different finish for each room (2 baths and a kitchen) and each is as beautiful as the others.  He even created a special paint color for one of the bathroom cabinets because he didn't have a stock color that worked with my granite. 

Everyone who has seen our cabinets has remarked about how beautiful they are (even people you wouldn't expect to notice).  We were so pleased with what he did we decided to add a built-in entertainment unit in the family room, and he said, "We will be sure that it matches the kitchen perfectly."  I have no doubt!

J W.

Campbell, CA

12/30/2010

This is a belated review for APF team who refinished my driveway gate. I had to wait and see how the gate did in all climates because I have been fooled before.

I had purchased a beautiful wood gate from Oregon with a finish that was applied by the gate manufacturers. The finished lasted less than 10 months. The finish started to peel off in many areas and the wood underneath was damaged.

I had various quotes from different folks but The finisher recommend a finish that is used on wooden boats. This finish has lasted through the summer heat in Campbell and now in freezing weather and morning dew. it continues to look beautiful and best of all, it is not peeling off!

You can bet that my next gate will go directly to All Perfect Finish team so it can be done right the first time.

Mike B.

San Jose, CA

11/9/2011

We used APF to paint a custom cabinet and mantel that needed to match the color of our brand new kitchen cabinets. their finisher used a door from our cabinet to match the color and it was a perfect match.  He was easy to work with, always answered my questions, and always showed up when he promised!  If you are looking for a painter I highly recommend All Perfect Finish!

Rob C.

San Jose, CA

10/31/2011

We are very pleased to have had All Perfect Finish give our kitchen a new, beautifal life. Our maple kitchen cabinets needed refinishing that would compliment a kitchen makover. We were first impressed when we stopped by thier shop, saw a sample of a stain finish that the Finisher created and of course, that was what we had to have. He stopped by to see our existing cabinets and we could see the passion and enthusiasm he had for his work. We  were sold!

From then on, The manager was like a friend, very personable, always available to answer our questions, kept to schedule and went out of his way to make sure we were happy. The All Perfect Finish team has gone the extra mile to make sure we became happy cutomers.

He also has a great eye for design and function that helped us make decisions in our kitchen.Our cabinets look alive again and became what we had wanted for our makeover. We are very pleased with All Perfect Finish, would hire them again and have recommended them to others.

Bianca P.

Saratoga, CA

10/19/2011

All Perfect Finish did a great job and saved us thousands on the refinish of our cabinets which were clear maple.  They had 15 years of hard use and a sizable bit of water damage over the years.  After numerous bids and different suggested approaches (such as complete refinishing down to bare wood) I went with All Perfect Finish as I did not want to spend 5-7K on a complete refinish.  The manager gladly refinished one cabinet to show me what it would look like and it was done beautifully.  The rest of the work then came out the same.  They were clean, efficient, on time, dependable and delivered quality work.  At this point,  Anyways, I'm happy with their work and with my choice to go this route instead of a vastly more expensive route.

Rayan A.

Santa Clara, CA

10/13/2011

Reliable, Punctual, Honest, Fair... the list goes on and on!

I contacted Perfect Finish via their website   The manager was very upfront about his availability  he was able to squeeze me in that same week! Their prices were very fair and he made everything crystal clear... from what needed to be done to what the final cost would be. Genuinely nice guy doing Finish work the way it should be done. I highly recommend Perfect Finish to anyone needing Wood Finishing work.

Eric K.

San Jose, CA

7/21/2010

The manager was a true professional to work with. 

I choose APF by cold calling a bunch of places and sending a picture of the custom-built fireplace surround I wanted finished.  Out of 5 bids, almost all came back with the typical $50/linear foot price, even though my setup was not the "typical" cabinetry as I had 2 columns, a 10' mantel, and 3 small speaker cabinets.  His bid was the only one that I thought was fair considering the work to be done.

His honesty, integrity and customer-orientation continued all the way through the end of the project.  I was a very small job for him, yet he treated me with all the attention I needed.  I literally spent a total of over 3 hours at his shop at different times and he happily explained to me the differences between the stains, reworked a bunch of samples to match some existing cabinetry, and answered all the other questions I had.  At one point, I wasn't happy with how the finish looked (mostly due to an error in the cabinetry) and he let me take it back home, correct it, and then he refinished it again to my liking.  Unbelievable!  I was so impressed!

I was so happy with his service and work, I tipped him.  This clearly wasn't the norm, as he looked at me and asked if I was "an angel."  Then, he promptly took the tip money and told me to give it the guys in the shop as they were the ones who did the work.  Again, I thought I was dreaming ... here is a guy that takes care of his customers and his employees.  That says it all.  He is the real angel.  I will be going back for my next project for sure!!!

Thanks!


Doris G.

San Jose, CA

11/22/2012

I'm so pleased to recommend APF and the team at  All Perfect Finish. My furniture store recommend them.  The result was beautiful.  In addition, Manager's patience and helpfulness was outstanding.  It's great to have such a professional business in the area.


Darryl S.

Cupertino, CA

12/12/2012

They came right out to give us an estimate. They came to the house and took down 23 kitchen cabinet doors and drawer fronts. They were back and reinstalled in a week. They did an excellent job on the finish. We were quite pleased with the job they did and the price was excellent for the quality of work they did.

I have highly recommended them to friends.

D. Stow, Cupertino


Gary J.

Cupertino, CA

03/04/2013

The French Connection, formerly of Los Gatos, did our kitchen about 25 years ago. The cabinets are cherry wood with pewter nobs and require special handling. We were very concerned about who did the refinish work. After interviewing a couple of people APF agreed to take one cabinet door and demonstrate the quality of workmanship; well, the demonstration was outstanding along with the price quote. It is so rare that one can get quality and value.

The job is complete now and APF did a wonderful job. They were timely as well as having done an amazing job of refinishing the cabinets and nobs.

Very pleased.


Wendy D.

Los Altos, CA

04/03/2014

It was a difficult job, but the result was sheer perfection! Every person that became involved was professional and meticulous from beginning to end.

I can't rave enough about the workmanship and overall quality of the end product!

Thank you ! I would highly recommend APF to any business or residential contractor who is looking for unique and beautiful craftsmanship.

Thank you!

Wendy and David D.

Los Altos

Here are, Our Confirmed Clients Reviews on YELP.COM. Courtesy Of:

*** Stars below represent, our clients reviews star selection on Yelp.com

All Rights Reserved Copyright APF 2009-2020 ©                                           1436 White Oaks Road # 15  Campbell, CA 95008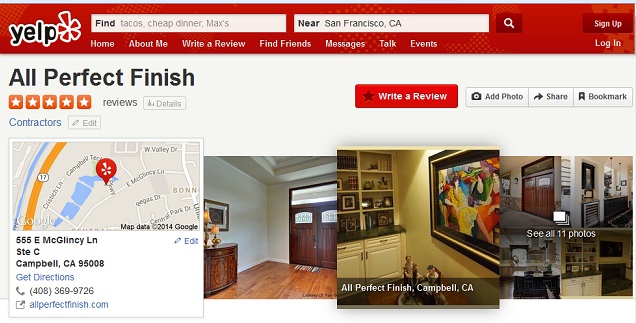 Steve S.

Campbell, CA

03/05/2013

I just had best experience with this company,thay gave me the best quality and valuable work on my kitchen cabinet appreciate all your work.

Thanks again.